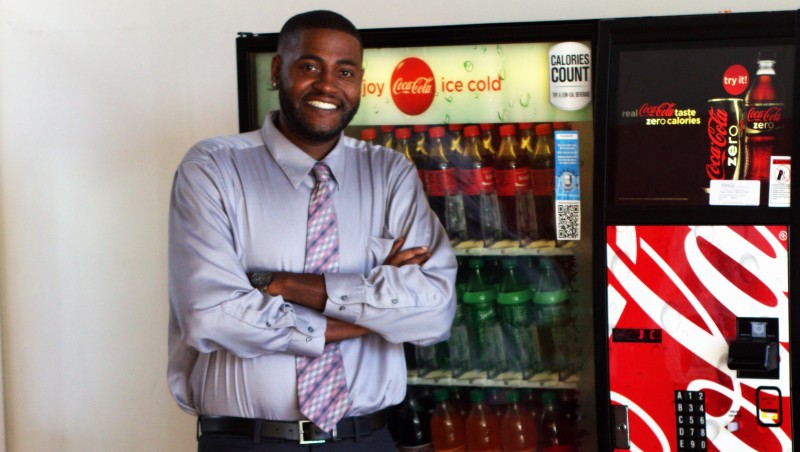 Vending MyChine wants to democratize vending machine snack selections
BY: WINSTON EDMONDSON
SiliconANGLE Dallas is covering the burgeoning Dallas/Fort Worth Startup scene. We invite startup founders to share their stories at our biweekly event, Media Day: Open Office Hours. We recently met with a startup founder who's planning on democratizing vending machine snack selections in order to increase the machines' profitability. The transcript of our conversation is below.
Winston Edmondson: I'm here with Demetrie King, the founder of Vending MyChine. I want to find out about his exciting, new Dallas based startup. Demetrie, how are you doing?
Demetrie King: I'm pretty good. How about yourself?
Winston Edmondson: Very well. So tell me about your company.
Demetrie King: Yes, I started a company called Vending MyChine. It allows consumers to rate products in vending machines. They can rate snacks, drinks…even electronics. We provide the vendor with all of that data, so they can know what to stock in each machine. So it's a win-win situation. Consumers get exactly what they want, and as a result, the vendors increase their monthly revenue.
Winston Edmondson: So I've seen vending machines that have snacks that nobody ever seems to want to purchase, so they just sit there and get stale, and then when someone finally buys one, the customer ends up being unhappy because it's no longer fresh. Your solution alleviates that problem.
Demetrie King: Exactly. There are items that people rarely buy, and they just sit there in vending machines. Once they expire, they have to be removed. There's no point in doing that when you can know exactly what your customers want.
Winston Edmondson: Tell me about your inspiration. What made you think of this? How did you see this need?
Demetrie King: It's actually funny. I worked in Corporate America at a company called Regus. I'd go to the vending machine at the office pretty regularly. One day, they put an item in the machine that I had never seen in a machine before. One of my favorite snacks. Seems like a funny thing to get excited about, but I was. As I was walking back to my office, a few of my coworkers saw that I was coming back from the machine with a new kind of snack, and they rushed over to me, saying things like, "Oh, wow! When did we get those in the machine!?" That was 3:00 o'clock in the afternoon. By 5pm, when I was leaving, that entire row of snacks in the machine was sold out. That's when I had my a-ha moment. I thought to myself, "Why don't we just tell them what we want? They'll end up making more money."
Winston Edmondson: Interesting. I don't drink soft drinks anymore, but I used to love Cream Soda. It's far superior to Root Beer. To this day, I've never seen Cream Soda in a soda machine. That makes no sense to me. Does the Vending MyChine technology work on soda machines, in addition to the traditional snack vending machine? Will people be able to use it to vote for Cream Soda, the most delicious soft drink known to man?
image
Demetrie King: Definitely. It works on everything. Drinks, snacks, electronics, tools. It works for any vending machine that vends anything. And the best part about it is that it works for healthy products, too. So it's not just your traditional snack products. You can put in your healthy vending products. Whatever someone wants to vend, we can provide this service for them.
Winston Edmondson: What's your target? Vending machines can be found just about everywhere. Are there vending machines in particular locations that you're focusing on right now? Regus, the company you worked at when you got this idea, has 4,000 business centers all over the World. That's a lot of vending machines.
Demetrie King: The main locations we're focusing on right now are schools and corporate offices. We want to get it in front of people who use the same machine frequently. Places where people use the same machine on a daily basis, ideally. It's not going to be as effective on a machine where someone only visits once every couple of weeks. We prefer machines with consistent customers, so we can give those customers what they want, which will encourage them to come back for more and more.
Winston Edmondson: How many vending machines currently use your technology?
Demetrie King: We have three vendors that we're working with right now, and we're in the process of signing up another one. The last vendor we signed has 300 machines. We still consider this the pilot program. We're testing everything out. We're showing vendors how to increase their revenue each month. We'll use this data when we're presenting to the big dogs. We want to be able to show them the hard numbers.
Winston Edmondson: So you partner with the vending machine owner, not the owner of the building where the vending machine is located? Is that where your revenue comes from?
Demetrie King: Right. We work with the owner of the vending machines. And there's a big variety in the number of vending machines owned by various companies. Some have only ten machines, some have hundreds, some have thousands, and there are some with more than 20,000 machines. So we work with the vendor, and they determine where the machines are located. They let us know, and we get the machines ready. Once we have people loading the Vending MyChine app, and once they start voting, we start to learn about their preferences. Right now, we have over 300 products to vote on. My favorite candy bar is Take 5, but it's never in vending machines. So we're taking products that people have to buy at the gas station, and once vendors see how popular they are, BAM, you've got it at your workplace. For our revenue, we have two models. We get ad revenue from the Vending MyChine app, and we also charge a small monthly per-vending-machine fee to the vendors.
Winston Edmondson: If your data reveals a product that isn't widely available, but that people really want, is that information that you could share with the company that produces it? So they can make an effort to get into more machines. They'd probably be good Vending MyChine evangelists.
Demetrie King: Sure. In the long run, I want to do some different things. Right now, the vending business is basically buying products in bulk and selling them as inexpensively as possible. But instead of focusing on the snacks you can only sell for $1.00, what if there are snacks that people really want, and they're willing to spend $1.50 or more to get them? We can help them discover that.
Winston Edmondson: So it's bringing free market economics to vending machines. You're letting the vendors know about products with higher demand that customers are willing to pay more for. Or maybe even the opposite. There could be a popular product that costs significantly less. The data you provide might show that it makes more sense to fill up three rows with this inexpensive product, because it will sell out every day.
Demetrie King: Exactly. Exactly.
Winston Edmondson: Walk me through what it's actually like when someone uses a machine. What do they see that differentiates a Vending MyChine from a regular vending machine?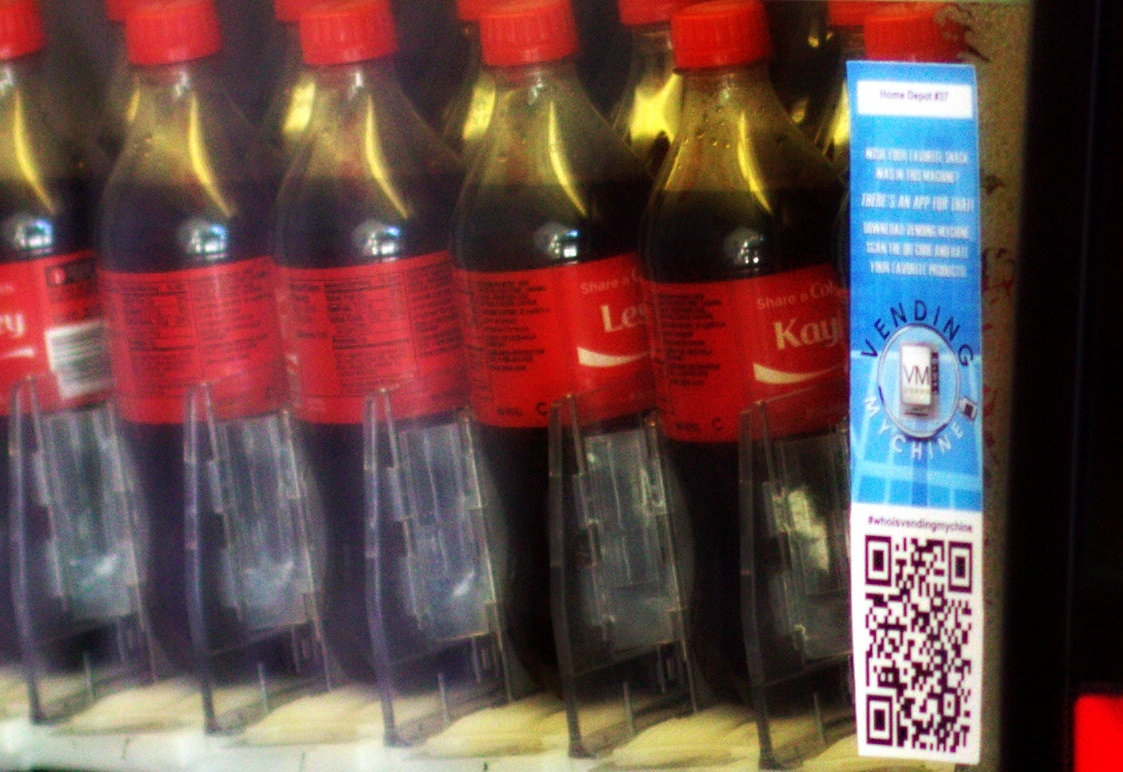 Demetrie King: When you walk up to the machine, you'd see the Vending MyChine sticker. Customers can get the Vending MyChine app for free in the iOS App Store or the Google Play App Store. Using the App, they can scan the QR code, which would bring up that machine. The customer can then rate the products on a one to five star scale. We give the vendors access to all that data, so they can see what everyone is voting on. The products that consistently have poor scores can be switched out with more popular products
Winston Edmondson: Once people get used to this, they'll probably start to recognize that vending machines with your solution are likely to have a better selection of delicious, crowd-sourced snacks. Democratically elected snacks, if you will. So they'll prefer Vending MyChines. Is there functionality within the app to help them track down the nearest Vending MyChine?
Demetrie King: Yes. The app can actually navigate you to the closest machine. In the future, the app will be able to navigate you to the closest machine with a particular product. So you could track down the closest machine with your all time favorite drink, Cream Soda.
Winston Edmondson: Perfect! I'm going to download the app right now and start rating snacks. Thanks for being with us today, Demetrie. For folks who want to learn more about your product, what's the best way to do that?
Winston Edmondson: Perfect! I'm going to download the app right now and start rating snacks. Thanks for being with us today, Demetrie. For folks who want to learn more about your product, what's the best way to do that?
Demetrie King: Thank you. They can look us up at VendingMyChine.com